Last weekend did my first convention as a vendor.  The convention was a local tabletop games convention called TsunamiCon. It was a smaller con with probably around a dozen vendors.  Gaming areas for the board and tabletop roleplaying games were the central features, so the vendor area wasn't the main focus of the event like some larger cons.
Preparation
I've been considering the convention scene (at least locally) for a while, but never really felt "ready".  Then a couple of weekends ago I happened to watch a random video about doing art events that basically said "Just do it! If you wait until you feel ready you'll never do anything." So I decided to just go for it and try to get into TsunamiCon on super late notice.  I reserved a vendor table at the last minute (I think it was October 12 or 13, the convention being October 18,19, and 20).  I had less than a week to prepare so I couldn't over-think it.  I had some artwork and merchandise from my Etsy shop as well as some odds and ends, but I was only able to get a handful of new prints made local and had no time to order anything else.
So my offerings consisted of:
Art Prints (Mostly 11"x14", with a few smaller ones)
Artist Trading Cards ("ATCs" trading card sized original drawings) 
1.5" Pin Back Buttons (I had about 50 divided among 6 designs)
Misc Small-scale Original Artwork from my Etsy Shop
The Event Itself
When Friday rolled around and the convention started, my display was pretty simplistic, essentially just spreading everything out on a tablecloth: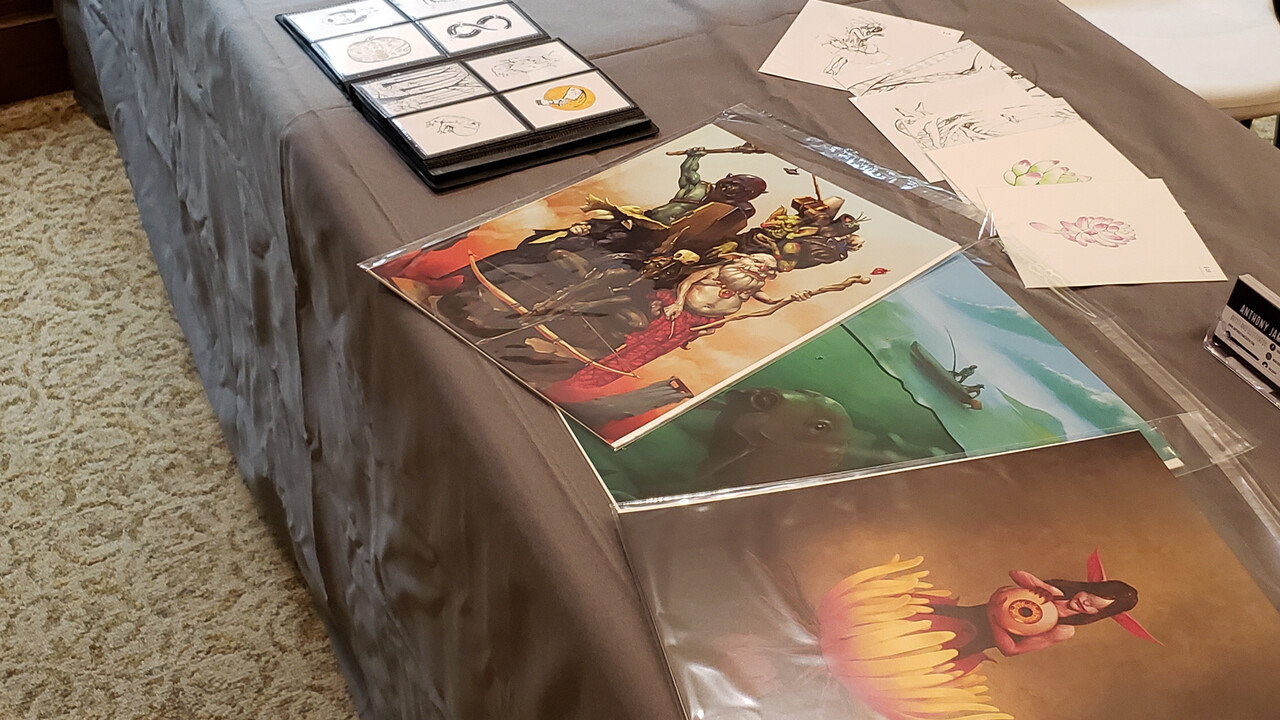 Friday the vendor area opened officially around 3 pm until 8 pm.  Things started slowly, which I figured was normal since it was still during the workday.  Traffic picked up in the evening and I made back the vast majority of my booth fee the first day. Saturday was the longest day, 10 am to 8 pm followed the same pattern. I made about 40% of my sales in the last hour the vendor area was open. Sunday was pretty slow all day.  The vendor area was only open from 10 am to 3 pm.  I pretty much just sold a single print.
So after all my expenses and table fee I only really ended up netting about $60 (not counting the material expenses for items I happened to already have before deciding to go).  Honestly, I think that's probably better than a lot of first-times go.  It was a pretty relaxed event.  Since most attendees were there to game, there were waves of people and periods of quiet as gaming rounds began and ended.
Afterward
Overall I think it was a pretty positive experience.  There were also a lot of lessons learned, like getting a handle on what types of things sell (I included some breakdowns on my Patreon version of this blog), as well as some tips and tricks learned from other vendors (like leads on printing services, product ideas, etc).  My gross revenue was pretty evenly split between art prints and smaller ATCs and buttons, but I sold more of the smaller items by far.  Also worth noting I did not sell any original artwork other than ATCs (the bulk of the original work I had were in the $25-100 range, more expensive than larger prints).  I got some comments about my pricing being too low, but I'd rather price things a bit low (with an appropriate profit margin) and allow people who want to tip more to tip rather than pricing aggressively.
For the future, I'll stock up on stickers and buttons and look for smaller and/or useful items (like the creature tokens I've been working on).  I'll also probably look for some display upgrades.  Kind of building up inventory and display slowly over the next year should put me in a good place to jump into cons next year (Wichita has 3 or 4 with slightly different focuses in a few month periods between September and November), and I can also look at smaller events like art markets or pop-ups between now and then!